Do you belong in a Zoo?
Thank you for your interest in Zoo employment opportunities! If you share these Core Values, we want to hear from you.  By checking this site often, you can learn more about the Zoo and what we have to offer.
About Diversity and Inclusion at the Cincinnati Zoo

Cincinnati Zoo & Botanical Garden CELEBRATES the diversity of our plants & animals, staff, visitors, and community. We believe the Zoo should be a place where everyone can be themselves. We strive for the Zoo to be a place where differences are recognized, welcomed, and celebrated through our culture, processes, programs, and very presence in the community.

We ACKNOWLEDGE that inequity is an issue we must confront and address. We recognize that some communities face barriers that limit engagement with the Zoo and our mission. We are working to understand these barriers and take actions that will support systemic change to benefit everyone.

We COMMIT to openness and transparency. We will seek out and listen to diverse voices to help us shape our role in the community and as an advocate for social and environmental justice. Recognizing that we cannot achieve our mission without a central focus on equity, we commit to an intentional path forward.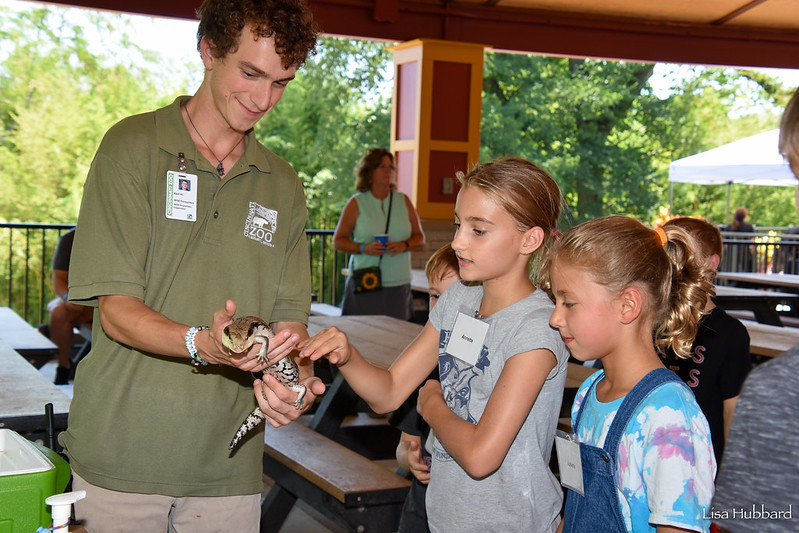 Join the Team
The Cincinnati Zoo & Botanical Garden is an equal opportunity employer and accepts employment applications and/or resumes for current open positions only.
About the Zoo
Available Positions
Food and Retail
Internships
Who are we? SSA is built by family, for families. SSA is now hiring fun, energetic, silly, optimistic and outgoing people to add to our team.
Retail:
Retail Warehouse Associate:  Apply Now
Retail Sales Associate: Apply Now
Food:
Food Service Cook: Apply Now
Food Service Associate: Apply Now
Food Service Supervisor: Apply Now
Internships
The Cincinnati Zoo & Botanical Garden Internship Program is designed for current college students or recent college graduates. Under the guidance and supervision of Zoo staff, interns will develop skills and gain valuable real-world experience in their field of interest.
The CZBG Intern Program provides students with a unique opportunity to work and learn from Zoo staff, gain valuable hands-on experience, develop professional contacts in the Zoo community, and attend lectures and continuing education courses presented by staff from various departments. Topics include basic animal husbandry, operant conditioning, enrichment, nutrition, veterinary care, public speaking and presentations, green practices and conservation, and job-seeking/interview skills.
Qualifications: The ideal candidate will meet the following requirements: 1) Current college student working toward a degree in a related field or a recent graduate with a related degree; 2) hard-working, highly motivated, and professional; 3) demonstrate commitment to working with children, adults, and wildlife in a zoo setting; and 4) comfortable working with and handling many different species encompassing all classes of animals.
Successful candidates will embrace and continuously demonstrate the Core Values of the Cincinnati Zoo and Botanical Gardens.
Working Conditions/Other Requirements: While performing the duties of this position, the intern is regularly required to stand, walk, climb or balance and grasp objects.  In addition, the intern is regularly exposed to outside weather conditions; must be able to lift & move 50 pounds without mechanical assistance. The CZBG is open 364 days a year. Interns can expect to have a regular schedule but may be scheduled to participate on some weekends, holidays, etc.
All animal interns must be fully vaccinated for COVID and provide documentation of the date
Appointment is conditional upon passing a pre-start drug & nicotine screen
Must provide a negative TB test result before beginning the internship
Candidates must provide proof of current medical insurance and maintain this insurance for the duration of the internship
Internships are 14 weeks and typically follow a full-time workweek pattern: 4-5 consecutive days per week, ~8 hours per day, generally from 7-8 am to 3-4 pm. The department supervisor sets final schedules.
The internship program provides a stipend compensation to offset the cost of living expenses incurred while participating in the internship learning experience. The stipend information is shared with interviewees during interviews. 
To apply for an internship, qualified applicants must apply via our online application on our website. Please be prepared to provide the following documents and information with your application:
Cover letter and resume (PDF format required)
Contact information for one professional reference
---
Summer Internship Session: May – August. Applications are accepted from January 1 – February 15.
Fall Internship Session: September – December. Applications are accepted from May 15 – July 15.
Winter Internship Session: January – April. Applications are accepted from September 15 – November 15.
Exact start and end dates are noted in each area's description.
Applicants are welcome to apply to more than one Internship Opportunity per session. To do so, applicants must complete a separate application per opportunity by clicking on the specific link within each description. Intern applicants can only be accepted for one opportunity per session. 
Click each program title for more details
Africa (January 15 – April 21, 2024)
Animal Excellence (January 15 – April 21, 2024)
Animal Nutrition (January 15 – April 21, 2024)
Animal Ambassador Team (January 15 – April 21, 2024)
Cat Ambassador Program (January 15 – April 21, 2024)

Come learn from one of the oldest, most well-established cheetah running programs in the country! We not only have ambassador cheetahs but also provide care for ocelots, servals, a red river hog, crested porcupine, domestic cats and dogs. In this internship, you will learn the inner workings of a show department and work with the animal trainers of the Cat Ambassador Program. The ideal candidate has a passion for learning and conservation education. Strong customer service skills are valuable in this role. The Cat Ambassador Intern will be interacting with guests and improving the overall visitor experience during our public shows and also be responsible for daily husbandry, diet prep, and enrichment with the supervision of CAP trainer staff.
Commissary (January 15 – April 21, 2024)
Elephant Department (January 15 – April 21, 2024)
Horticulture – Native Plant Program/Wetland (January 15 – April 21, 2024)
Horticulture – Plant Records (January 15 – April 21, 2024)
Horticulture – Plant Trails (January 15 – April 21, 2024)
Invertebrates (January 15 – April 21, 2024)

The Cincinnati Zoo & Botanical Garden is seeking a World of the Insect intern that will assist keepers in the daily husbandry and maintenance of over 60 invertebrate species.  As World of the Insect was the first building in the United States dedicated solely to displaying invertebrates in 1978, this opportunity is incredibly unique.  The building is regulated by the USDA's Animal and Plant Health Inspection Service and Plant Protection and Quarantine.  The selected intern candidate will be working hands on with our American Burying Beetle local conservation program, various SWARM (Safety Web for Arthropod Reproduction and Management) species, our butterfly aviary, aquatic invertebrates, and many more including katydids, ants, beetles, millipedes, cockroaches, mantids, walking sticks, arachnids, true bugs, and grasshoppers. The ideal candidate for this position exhibits an eagerness to learn, enthusiasm for the species under our care, is a team oriented-respectful individual, with a mindset to work hard and have fun.
Night Hunters (January 15 – April 21, 2024)
Primate Department (January 15 – April 21, 2024)
Wings of Wonder (January 15 – April 21, 2024)
---
The application window for the Winter 2024 session will be open from September 15, 2023 – November 15, 2023.  
Thank you for your interest!  If you have additional questions, please email [email protected].
The Cincinnati Zoo & Botanical Garden and AmeriCorps have partnered to affect change in our communities! We bring fun, science-based educational opportunities to students in Cincinnati who need it the most. Together, Cincinnati Zoo & Botanical Garden and AmeriCorps provide quality STEM education to economically disadvantaged Prek-12 students. AmeriCorps Members work directly with teachers and students to improve science literacy and academic engagement in the scientific process.
We are challenging our community to step up and do more to conserve resources and wildlife! AmeriCorps Members engage community members by sharing sustainable habits, encourage behavior change, and provide hands-on learning opportunities. Our goal is to lead by example and spark environmentally conscious practices in our community.
Each year, full-time AmeriCorps members join the Cincinnati Zoo & Botanical Garden in service positions throughout the Zoo.  Members earn a living allowance, education stipend, and receive extensive training, practice, and skill building in environmental education and other fields.  AmeriCorps Members are eligible for benefits including health insurance and childcare.
Join The AmeriCorps Crew
AmeriCorps at the Cincinnati Zoo is expanding, and we are looking for positive, passionate, and progressive people to join our team.
Service Positions are available in:
Animal Excellence, Conservation Research, Conservation Projects, Education, Horticulture, Sustainability, Visitor Experience, Youth Development
Annual outcomes of this partnership will be to:

Bring 11,000 economically disadvantaged students to the Zoo
Increase the science literacy and academic engagement of 1,690 of these students
Engage 30 teachers in inquiry-based professional development
Provide STEM extracurricular programs to 10 children in need throughout the entire school year and summer
Increase the conservation knowledge and intent to change behavior
Leverage an additional 480 adult and teen volunteers to deliver environmental messaging to Zoo visitors and will address blight through the creation of healthy green spaces for people and wildlife.