Two females and two young males are first residents of Elephant Trek
CINCINNATI, OH (November 8, 2023) – Four Asian elephants (Elephas maximus), two adult females and their young male calves, arrived at the Cincinnati Zoo & Botanical Garden on Sunday, November 5, and are settling into their new digs in Elephant Trek, the largest habitat that the Zoo's ever built.  The new elephants, SheRa, Kabir, Anak, and Sanjay, came from the Dublin Zoo on a joint recommendation from the Association of Zoos and Aquariums' Asian Elephant Species Survival Plan® (SSP) and its equivalent in the European Association of Zoos and Aquaria (EAZA), the Endangered Ex-situ program (EEP), which make breeding and transfer decisions with the goal to sustain a genetically diverse, demographically varied, and biologically sound population.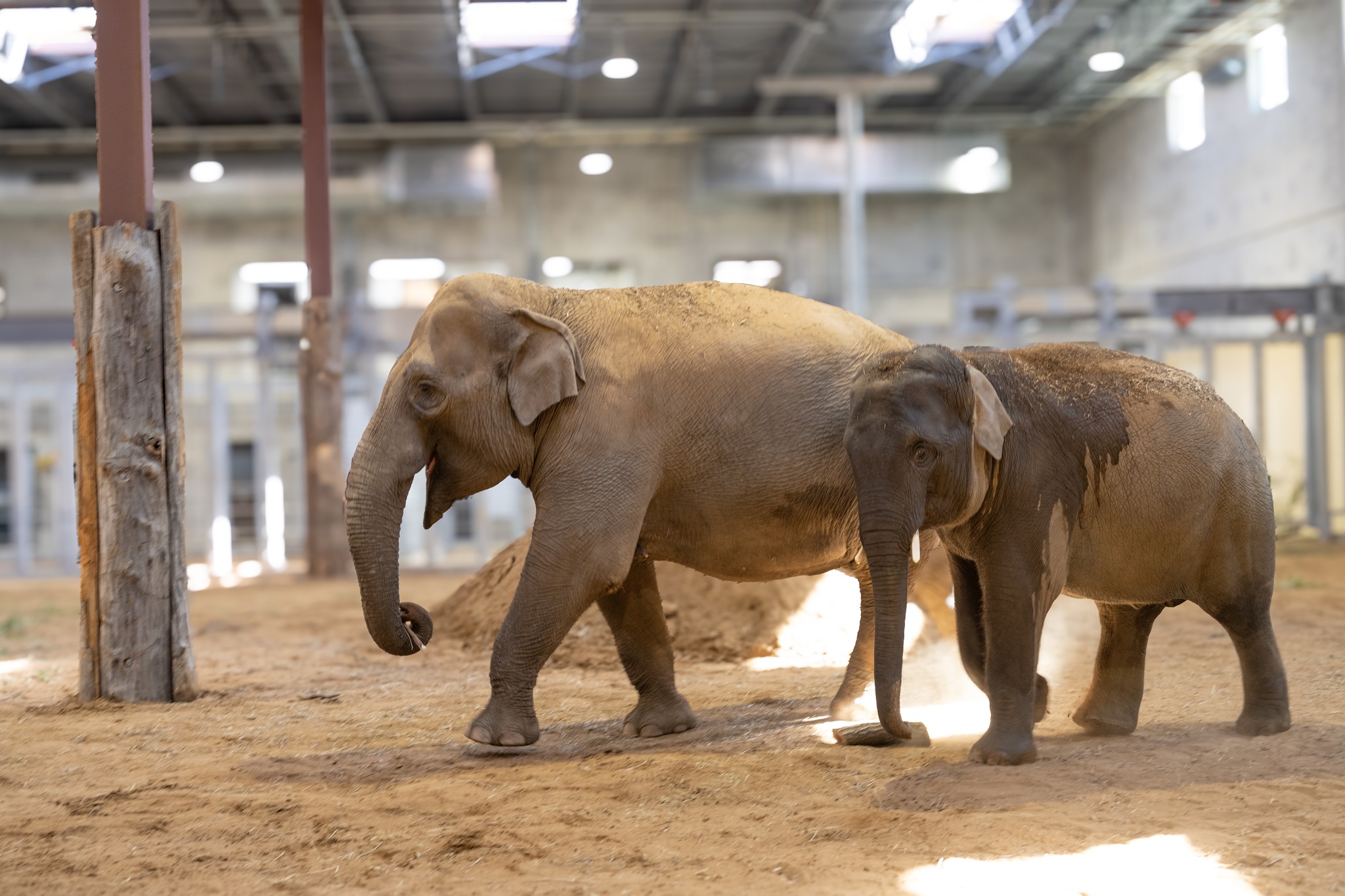 "We've been collaborating with the Dublin Zoo's care team for more than a year and have spent a lot of time with our new residents in their former home," said Eric Duning, Cincinnati Zoo's elephant team leader.  "I've been with them for the past few weeks and accompanied them to Cincinnati.  We also brought members of their care team here to assist with their transition."
The new elephants will spend time getting acclimated to Elephant Trek this Winter and will be introduced to the rest of our herd some time before the new habitat opens to the public next summer.
"We are sad to see them go but thrilled that they will be in this great new facility," said Miguel Bueno, General Curator at Dublin Zoo.   "Their departure will allow us to move forward with breeding recommendations that we have for our remaining female elephants who are awaiting the arrival of a new bull to resume our successful multi-generation breeding program."
Cincinnati Zoo's bull elephant, Sabu, will be the first to be introduced to the new elephants when he returns from the Columbus Zoo, where he's been for the last year to breed with the females there, in early 2024.  Cincinnati's females, Schottzie (SheRa's aunt), Mai Thai, and Jati, will join the herd after that, with the goal to let the whole, multi-generational herd roam together in the five-acre space.
It will be months before visitors can see the new elephants in person, but the Zoo will post updates on its social channels. Schottzie, Mai Thai, and Jati will still be visible in the Elephant Reserve, close to the Zoo's main entrance, until they move to Elephant Trek next year.
There are currently three recognized species of elephant: the African forest elephant, the African savanna elephant, and the Asian elephant. Each of these species is threatened with extinction. Elephants range throughout sub-Saharan Africa, South Asia, and Southeast Asia, and can be found in a variety of different habitats, including forests, savannahs, marshes, and deserts.            According to the Association of Zoos and Aquariums (AZA), there are only 40,000 Asian elephants in the wild today. According to the assessment of the International Union for Conservation of Nature (IUCN), they have been classed as an endangered species, and Cincinnati Zoo is committed to caring for them locally and globally.  It participates in multiple conservation efforts to support the survival of this species in its native habitat.
SheRa (known at the Dublin Zoo as Yasmin)
32-year-old female
Mother of Kabir; Mother of Anak
Related to Cincinnati Zoo elephant Schottzie
Kabir
6-year-old male
Son of SheRa
Anak
20-year-old female
Mother of Sanjay
Sanjay
5-year-old male
Son of Anak